Inside Health
and Science
• MedicineNet's
health news
• Health digest
• Health index
• Diet news
• Hot lines
• Science digest

Inside Life
• Books
• Lifeline
• People
• Television
• Movies
• Music
• Theater
• Travel
• Hot sites
• Web Traveler
• Health
• Science
• Crossword
• Snapshots

Search
• Newspaper
Archives
• Our site
• Yellow
Pages

Resources
• Index
• Feedback
• What's hot
• About us
• Jobs at USA
TODAY

Free premiums
• USA TODAY Update
• Software

11/17/98- Updated 02:15 PM ET

The Nation's Homepage

'Smart T-shirts' can sound the alarm
A computer T-shirt woven with fiber optics and electrically conductive thread may soon monitor the health of soldiers, rescuers, the elderly and others who are medically vulnerable.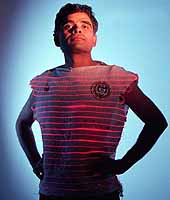 Shirt tales:
Sundaresan Jayaraman invented the technique used to sew fiber optics into garments. He calls the shirt 'a computer motherboard' (USA TODAY).
The "smart T-shirt" was developed by the government as a potential tool for pinpointing soldiers' injuries and helping medics decide whom to treat first on the battlefield.

The shirt can tell when a bullet has ripped into the body, where it went and how badly the wearer has been wounded. It can send an emergency distress signal that includes its exact location, and it can transmit vital signs and loads of other digital information.

The military is studying the shirt's possibilities for the battlefield. But because the technology behind the shirt is now available to the public, the $30 garment could be worn by nursing home patients, firefighters or police within months of a group's request, its inventors say.

"This is one of the genuine breakthroughs for the next century," says researcher Sundaresan Jayaraman. He led a team at the Georgia Institute of Technology's School of Textile and Fiber Engineering in finding a way to sew fiber optics and conductive fibers into a shirt without cutting the cloth.

This technique was key to turning out a shirt made of high-tech communication fibers that make up a wearable network. Jayaraman calls the shirt "a computer motherboard."

The military version will have a pager-size processor that analyzes sensor data and transmits it via satellite. Any kind of computer chip could be plugged into the shirt, allowing the wearer to surf the Web or an employer's computer to track a worker's every move.

But the medical applications have driven the development.

As pajamas, babies could be monitored for signs of sudden infant death syndrome.

To examine a diseased heart, doctors could outfit their patients with a Doppler device that could monitor blood flow all day.

People at home after surgery could be monitored closely by medical professionals miles away.

Those are just a few of the uses inventors have heard about. They expect that others will find many more uses than they can imagine today.

"The real applications will come from out there," says another of the inventors, Eric Lind, a Navy engineer from Sparwar Systems Center in San Diego.

The shirt, called a sensate liner, was developed with about $400,000 of research money, most from the U.S. Defense Advanced Research Projects Agency (DARPA). As the military's "out-of-the-box" research arm, DARPA was looking for ways to use high-tech tools to save more lives on the battlefield.

Specifically, the agency wanted to find a high-tech way for medics to know when a soldier was shot.

"We were working on a wristwatch that sends back blood pressure and just got carried away," says Richard Satava, who headed the project.

He says the shirt may save lives on the battlefield by allowing medics to triage victims from afar, applying their skills to those who need them most first and not wasting time on those who can't be saved.

To do this, the medics must be able to "see" the victims sooner.

The shirt will send data via satellite to a medic in the field and to a surgeon anywhere in the world within moments after a bullet or shrapnel tears through it. When a fiber is broken by a bullet, the computer kicks into high gear, turning on a slew of sensors.

The shirt will identify the impact point and turn on sensors around the area. These sensors will detect blood flow.

At the same time, paper-thin plastic microphones are turned on to capture sound waves as the bullet tears through.

By firing various types of bullets into gelatin with the consistency of the human body, scientists have mapped a distinctive sound they think will be repeated when a person is shot. The shirt will record the sounds within the body from various angles and create a computer image that shows medics and doctors where the bullet went.

Combined with the other sensor information, this internal view of the possible damage can launch the triage process long before a medic can reach the injured.

Military officials hope this kind of technology can help save the soldiers who today die needlessly while medics run from one victim to the next.

In cities across the USA, police and firefighters may benefit from the shirt, too.

Police could benefit from the shirt just as it would be used on the battlefield. But the firefighting industry is already talking about the shirt as a possible digital layer of protection during a blaze.

Firefighters often die from heart attacks during a fire. The physical exertion combined with the adrenaline rush of the high-risk job can mask early warning signs until it's too late.

Monitoring their vital signs from a command center might help safety officers see when firefighters are getting into trouble and pull them to safety. The global positioning feature would help commanders find firefighters if they did go down in a burning building.

Scott Baltic, editor of Fire Chief magazine, says the shirts also could help in an ongoing effort to outfit firefighters with temperature sensors.

Firefighters who are burned to death are sometimes the victims of the quality of their modern gear. Their heat protection is so good that it does not allow them to sense that a room is about to explode.

Firefighters used to know when temperatures were nearing the point of flashover, when the air becomes so hot that all of the combustibles ignite simultaneously, because part of their body would burn.

"They used to know how hot it was based on how much their earlobes hurt, or they would take a glove off and see how long they could leave their hand out there," Baltic says. "Now they're going in with such good protective clothing" that they can't always tell when the room they're in is about to burst into flames.

"There is a real need for sensors," Baltic says.

For now, the T-shirt inventors say there are only a few prototype shirts for testing, but clothing companies are considering mass production.

The military can use the technology to make its own shirts for free, but private companies must buy a license for the textile technology from Georgia Tech.

Jayaraman says that if a fire department or other group wanted to buy shirts directly from his team, they could be delivered within weeks.
By Robert Davis, USA TODAY
Front page, News, Sports, Money, Life, Weather, Marketplace
ęCOPYRIGHT 1998 USA TODAY, a division of Gannett Co. Inc.